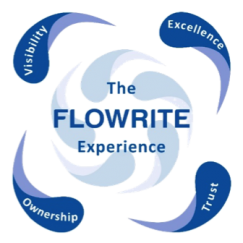 Flowrite Services Limited are the UK's market leading provider of reactive repair, planned maintenance and installation works for all types of refrigeration and air conditioning systems. We work across a large variety of sectors including retail, hospitality and commercial properties.
We are a truly national company with over 100 directly employed engineers; each of which have a service vehicle equipt with over 300 spare parts. Being prepared is what enables Flowrite to achieve first fix success rates which are second to none within the refrigeration and air conditioning industry.
Flowrite have long established relationships with a variety of the UK's largest multi-site operators within the leisure & hospitality, retail, commercial and public sectors. We maintain these strong relationships by working in partnership with our customers to tailor our services to meet their specific requirements.
We recognise the importance of utilising the very best technology to provide an efficient service and real time information. That is why all of our engineers' vehicles are tracked, all our jobs are paperless, and your assets are tagged with Quick Read codes thus ensuring the most accurate data capture. To achieve this Flowrite have made investments in the very latest market leading technology called Optimatics from Aeromark; this software ensures we have the information and tools to dispatch the best engineer and also transmits vital information in real time to the engineer's mobile device.
This provides all the information including site history to ensure the engineer has everything they require for each and every breakdown attendance, this has resulted in greater efficiency, accurate parts ordering and a successful improvement in our first-time fix rates. Our job sheets are also created in real time and emailed as the engineer leaves the site to ensure our customers are kept up to date with all works as they happen.
Flowrite's front line successes are underpinned by our tremendous 24/7/365 back office support system. We have dedicated customer service teams focusing on incoming customer enquiries, job/engineer planning schedules, planned maintenance scheduling and spare parts ordering/delivery amongst many other support functions. This means that all our customer can expect to receive a first class service not only from start to finish of each and every Flowrite service visit.
Our approach to business supported and focussed on our 4 core behaviours that are embedded into all areas of the business: –
Visibility – make sure we are constantly meeting our people and customers and creating meaninful and lasting relationships
Ownership – take full ownership of all tasks and make sure they are completed to the satisfaction of the customer
Trust – create a business built on trust where we do exactly what we said we will do
Excellence – strive to be the best we can be as both people and as a whole business