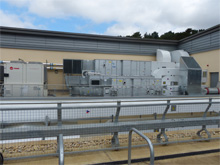 Flowrite are a major supplier to Commercial industry, providing refrigeration and air conditioning reactive repair, maintenance and installation to customers throughout the UK and operate in Mitie, Vision commercial kitchens, Airedale Group and BBC to name a few within retail, leisure & hospitality sectors…
Our services are designed to create the perfect commercial air conditioning systems for offices, hospitals, restaurants, schools, leisure centres and computer room premises to help cool the warm temperatures and ensure you have a pleasant indoor environment.
As trusted partners with the UK's leading air conditioning manufacturers, we look after the following type of equipment:
Split Systems
Twin, Triple & Quad Split Systems
Multi-Split Systems
VRV, FSystems
Close Control systems
Chillers
Click here to see air conditioning products.
We are also D1 approved from market leader Daikin and adhere to the strict criteria's set out, to ensure all our customers receive a professional service that they can rely on with a full after sales service and warranty repair.
Flowrite can offer you a FREE site survey and produce a tailor made agreement especially designed for your business needs. Whichever industry sector your business is in we are able to provide a comprehensive range of refrigeration services for your commercial requirements and help provide you with a comfortable air conditioned environment and the correct facilities for your refrigeration storage.
Contact Us Today on 0845 603 4040