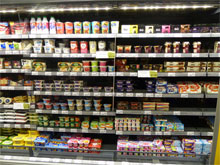 Flowrite are a major supplier to the Retail industry, providing refrigeration and air conditioning reactive repair, maintenance and installation to customers throughout the UK and operate in Thorntons, Lidl's, Centre Parcs and Pizza Hut to name a few…
Our services are designed to keep your products within the fruit, vegetable, meat, fish, dairy and bakery sections as fresh as possible.
As trusted partners with the UK's leading refrigeration manufacturers including Electrolux, Gram, Storers, Williams, Hubbard, Foster, Autonomis, Scotsman and Beer Master, we supply walk-in, upright, under-counter, chest type chillers, freezers, cellar cooling systems, ice machines and dispensers.
We are also D1 approved from market leader Daikin and adhere to the strict criteria's set out, to ensure all our customers receive a professional service that they can rely on.
So whether your business is a shop, supermarket, café or restaurant, Flowrite can offer you a FREE site survey and produce a tailor made agreement especially designed for your business needs. Whichever industry sector your business is in we are able to provide a comprehensive range of refrigeration services for your food & beverage requirements and help increase your overall customer experience from maintaining a comfortable air conditioned environment.
Contact Us Today on 0845 603 4040